Our Approach
In 2013, the Salamander Population and Adaptation Research Collaboration Network started as a partnership between researchers at Penn State University and the USGS Northeast Amphibian and Research Monitoring Initiative (NEARMI) with the intention of creating a research network to understand salamander climate adaptation and population dynamics across multiple scales. The goal is to identify local and regional drivers of population dynamics to better predict the impacts of management and environmental change. We plan to achieve this goal by;
Creating a versatile, statistically and methodologically efficient research protocol
Establishing a network of study partners that perform and coordinate observational and experimental studies.
The core of the project revolves around capture mark-recapture and our replicated plot study design. This opens the door for collaborators to participate in research on morphology, abundance, age-class structure, life history, demography, and much more. Given the rich data set that will result from the effort put forth by the network, many additional research questions can be addressed, and this is one of the emergent opportunities that participation in SPARCnet offers. Our other central component includes development of citizen science opportunities, science curriculum, field biology courses, and educational materials for nature centers, refuge visitor centers, and the National Zoo.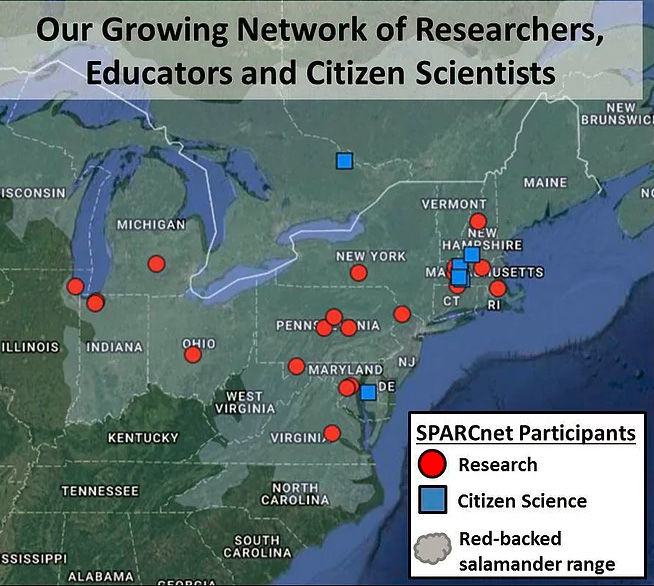 Meet the Steering Committee
The steering committee directs and ensures the continuity of the network. They also evaluate project proposals and facilitate collaboration between network members.
Evan H Campbell Grant
Research PI
Research Wildlife Biologist USGS NE Amphibian Research & Monitoring Initiative
Research PI
Assistant Professor
Pennsylvania State University
Research PI
Assistant Professor
University Massachusetts Amherst
Research Collaborators
Adrianne Brand, Wildlife Biologist - U.S. Geological Survey, Northeastern Amphibian Research and Monitoring Initiative
Andrew Dietrich, Wildlife Biologist - U.S. Geological Survey, Northeastern Amphibian Research and Monitoring Initiative
Sean Sterrett, Postdoctoral Research Scientist - U.S. Geological Survey Cooperative Unity, University of Massachusetts Amherst
Kristine Grayson, Assistant Professor - University of Richmond
Tanya Matlaga, Professor - Susquehanna University
Kerry Yurewicz, Professor - Plymouth State University
Paola Dolcemascolo, Assistant Professor - Berkeley College
Joseph Milanovich, Assistant Professor - Loyola University of Chicago
William Peterman, Assistant Professor - The Ohio State University
Brian Gratwicke, Research Scientist - Smithsonian Conservation Biology Institute
​Daniel Hocking, Assistant Professor - Frostburg State University
​Kristen Epp, Assistant Professor - Eastern Connecticut University
​Caitlin Fisher-Reid, Assistant Professor - Bridgewater State University
​Jennifer Deitloff, Assistant Professor - Lock Haven University
Mike Losito, Professor - SUNY Cobleskill
Education Collaborators
Alexa Warwick, Evolution Education and Outreach Postdoc - BEACON Center
Grant Dobson and Lyndsey Mask Education Director - Shaw Woods Outdoor Education Center, Douglas, Ontario
Matt Ellerbeck, Salamander Conservationist and Educator - Ontario
Catherine Devlin, Educator and Coordinator of Student Assessment - Greenfield Community College, Greenfield, MA
Amanda Hyde, Professor of Biology - Greenfield Community College, Greenfield, MA
Krysta Hougen, Teacher Naturalist and Camp Director - Pickering Creek Audubon Center, Easton, MD
Danika Tyminski, Educator - Swift River Elementary School, Wendell, MA
​Ted Watt, Educator - Hitchcock Center for the Environment, Amherst, MA
​Brett Amy Thelen, Science Director - Harris Center for Conservation Educator, Hancock, NH
Graduate Students
​Jill Fleming, MS student - University of Massachusetts - Amherst
David Muñoz, PhD Student - Penn State University
​Ben Padilla, PhD Student - University of Massachusetts - Amherst